Profile of Mr.R. Pandian
M.A., M.L., M.L.M., PGDJM&C., PGDHHA., PGDMMT&LM.,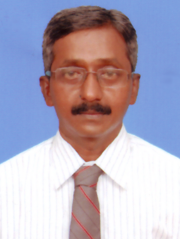 Born on 9th February, 1964, Mr R. Pandian has about 28 years of rich work experience behind him. Basically a Post Graduate in Law with Constitutional Law & International Law as Core subjects from the University of Madras, he obtained Post Graduation in Public Administration and in Labour Management from the University of Madras. He has also secured PG Diplomas in Health and Hospital Administration (approved by the Government of Tamilnadu), Journalism and Mass Communication from Madurai Kamaraj University, and Multi-modal Transportation ( Containerization) and Logistics Management. He has also cleared the National Level Eligibility Test (NET) conducted by the University Grants Commission (UGC) for qualifying as Lecturer in LABOUR WELFARE AND INDUSTRIAL RELATIONS and in LAW.
He started his career as a Trainee Junior Administrative Officer in a reputed hospital in Vellore, and later joined the Cancer Institute (WIA), Adyar, Chennai. After a stint of a couple of years, he joined the Government Sector and served for nearly 21 years and voluntarily retired from government service in September, 2009.
He has considerable experience in core HR and Employees Relations activities. He has conducted various Disciplinary Proceedings as Enquiry Officer. He has also participated in several negotiations before the Conciliation Officers of Central and State Governments and presented the cases in accordance with the provisions of Industrial Disputes Act. He has also participated in Mediation and Arbitration Proceedings in Labour matters.
After enrolling as Advocate in the Bar Council of Tamilnadu and Pondicherry in 2009, he is now practicing in the Madras High Court and other Subordinate Courts and Tribunals --- involving Writs, Service matters of Central/State Government employees, Consumer Protection. He is presently handling classes on HR Management, Labour Laws, Trade Unionism, Industrial Relations and other allied subjects in reputed institutions as a Part time Lecturer. He has a wide range of experience in conducting Seminars for supervisors, junior and middle level management cadres and also to trade union leaders. Thus, he has evolved himself as the Course Director for imparting HR training in the core areas of HR Management, Industrial Relations, Team Building, Goal Setting, Leadership skills, Stress Management, Time Management, Motivation, Kaizen concepts of Japan, and other allied soft skills.