Profile of Mr.S. Pandurangan
B.Com., B.L., PGDIR&PM.,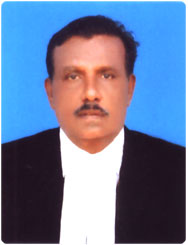 Born on 21st April, 1952, Mr S. Pandurangan, has nearly 37 years of work experience behind him. Basically a Commerce and Law Graduate from the University of Madras, he acquired the additional qualifications of PG Diploma in Industrial Relations and Personnel Management from the Madras School of Social Work and cleared Intermediate in ICWA.

He started his career as Junior Executive in M/s. Ashok Leyland Ltd., Ennore in the year 1978 and continued as such till 1986. Thereafter, he had his stint as Assistant Personnel Officer before he rose to the hierarchy of Chief Manager in Central Institute of Plastics Engineering and Technology, Guindy, Madras-32 till April 2012 when he hanged his boots on superannuation.
His range of HR experience encompasses Manpower Planning, Recruitment, Wage & Salary Administration, General Administration, HR developmental activities, Employees Welfare embracing maintenance of PF, Gratuity & Settlement of Terminal benefits, Industrial Relations, Grievances redressal, etc. He has handled all legal matters including draftings and pleadings on behalf of the organisation and also acted as Inquiry Officer and Presenting Officer in the Disciplinary Proceedings, which experience helps him now in handling cases in Labour Courts.
In 2012, he enrolled as Member of Bar Council of Tamil Nadu and since then, has been practicing in Madras High Court, Armed ForcesTribunal, Central Administrative Tribunal, Central Govt. Industrial Tribunal, City Civil Court, Arbitral Tribunals, Consumer Forum etc. He has a very wide knowledge and experience in draftings, pleadings, offering legal opinions on real estate matters, issuing legal notices on behalf of a good number of clients.