Profile of Mr.M. Nagasubramanian
MA M.Phil (English), B.Com LL.B, DHRM.,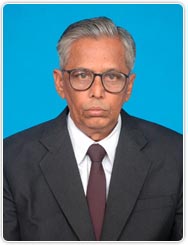 Born on 17th June 1947, Mr M. Nagasubramanian has 42 years of rich work experience behind him. Basically a Commerce and Law Graduate from the University of Calcutta, he acquired the additional qualifications of M.A. and M. Phil in English from the University of Madurai and Diploma in Human Resources Management from IGNOU, New Delhi.

He started his career as Personal Assistant in the then Madras Secretariat, and worked under Senior I.A.S. Officers for about four years. On selection through the UPSC Stenographers' Cadre Examination he joined Ministry of Defence, Ordnance Factory Board, Kolkata in 1972 as Personal Assistant and retired from service in June 2007 in the rank of Principal Private Secretary.
He is now a practising Advocate in the Madras High Court since 2008. He has been having an indomitable passion for imparting training to the Executive Private Secretaries, CEO Secretariat supporting staff in Secretarial Skills and Communicative English / Soft Skills to the office staff and industrial employees alongside.
(He has also hosted a separate website www.secretarialtrg.org for Executive Secretaries, and another one viz., www.englishtrg.org for Communicative English Skills for office staff as well as industrial employees. These two websites may also be visited for exhaustive details.)
After enrolling as an Advocate in the Bar Council of Tamilnadu and Pondicherry in 2008, he is now practicing in the Madras High Court and other Subordinate Courts, Central Administrative Tribunal , Armed Forces Tribunal, Arbitral Tribunals and Consumer Courts --- involving Writs, Service matters of Armed Forces Personnel, Central/State Government employees and Consumer Protection. While he was in service in the Ministry of Defence, he had also imparted Secretarial Training to Private Secretaries, Personal Assistants, office staff and industrial employees of various Ordnance Factories under the Department of Defence Production in the core areas of HR soft skills such as Kaizen concepts of Japan, Interpersonal relationship, Team Building, Goal Setting, Leadership skills, Stress Management, Time Management, Motivation etc.